---
Revision as of 20:13, 23 January 2020
Welcome to The Flintstones!
Wiki created August 5, 2008 by User:Tcmg
Characters | Episodes | Creators | Locations
About the Wiki
The Flintstones is an encyclopedia about The Flintstones TV Show that was broadcasting on Boomerang that anyone can edit.
<createbox> bgcolor=#f3f3ff </createbox>
Featured Article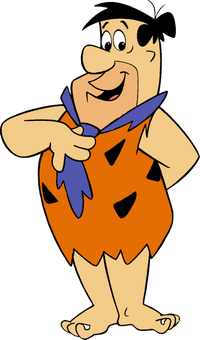 Frederick Joseph "Fred" Flintstone (aka Fred W. Flintstone) is the husband of Wilma Flintstone and father of Pebbles Flintstone. His best friends are his next door neighbors, Barney and Betty Rubble, who have an adopted son named Bamm-Bamm.[1]
Fred lives in the fictional prehistoric town of Bedrock, at 345 Cave Stone Road (in some episodes, 1313 Cobblestone Way or 222 Rocky Way), a world where dinosaurs coexist with modernized barefoot cavepeople and the cavepeople enjoy "primitive" versions of modern conveniences such as telephones, automobiles, and washing machines. Fred Flintstone's catchphrase is "yabba dabba doo!", which is also heard at the beginning of the theme song and the film.
Fred has since appeared in various other cartoon spinoffs, live action adaptations and commercials.
Poll
Administrators
If you have any questions or need to report something, contact one of the administrators.
Community content is available under
CC-BY-SA
unless otherwise noted.